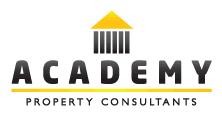 Academy Property Consultants Ltd
Cavendish Close 1a
Dawlish, Devon
EX7 9ED
Since 2010
Student Living - Theory into Practice.
Academy Property Consultants specialises in delivering student accommodation projects that meet the needs of our customers:

Students and Parents
Universities
Investors

We aim to provide a student development and management service experience that is second to none. Academy works with all stakeholders to promote and develop quality living and studying places where students can enjoy living and learning.

Academy can draw on an enviable track record in delivering student accommodation developments that meet the various needs of our customers. From acquisition to asset management. Academy will put theory into practice and create quality living and learning environments where students, parents, universities and investors can be assured that their aspirations are met or exceeded.

All Academy student residences are promoted in partnerships that work - with landowners, universities, local communities, contractors and investors. Academy aims as part of its remit to raise standards in the student subsector of the Private Rented Sector where both the quality of property and service standards can often be variable. Academy student living projects contribute to urban and economic regeneration as they are promoted on brownfield land and invariably breathe fresh new life into local economies. Academy halls of residence also often free up existing housing stock reducing so called studentification with that housing being used to house local people.

Academy student residences have excellent locations on or close to main university campuses; are secure and purpose built with attractive exteriors and welcoming comfortable interiors. Academy projects also boast state of the art broadband services and low carbon footprints - encouraging travel by foot, cycle or public transport - in place of the car.

If you want to put your student halls of residence theories into practice - call on the student accommodation experts at Academy Property Consultants.
Staff
Academy Property Consultants was formed by Steve Travé DipSurv MRICS to provide a wide range of property solutions designed to support universities in growing the knowledge economy of UK plc.

Steve has a 27 year track record in the UK property sector working across the public, private and voluntary sectors. Among a wide range of property projects and programmes - Steve has developed or secured over 2,000 student bed spaces in new purpose built halls of residence using various procurement models designed to meet the needs of universities.
Memberships
Royal Institution of Chartered Surveyors
Area of Business
Development Management
Site identification
Site acquisition management
Design guidance
Design and financial feasibility appraisals
Planning application and appeals management
Lease and Nomination Agreement negotiations
Project management
Private Finance Initiative and Public Private Partnership procurement and bid management

Agency and Marketing
Site introductions
Marketing and sales of land, projects and portfolios
Marketing plans


Facilities Management
Soft and Hard Facilities Management procurement / provision
Life Cycle Costing
Carbon footprint management strategies
Health and Safety advice
Property related tax planning (In consultation with client taxation advisers)


Research and Development
Research projects
Fees
Services and fee quotations upon request.