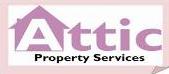 Attic Property Services
Viking Industrial Park Unit 112 & 143
Jarrow, Tyne And Wear
NE32 3DT
Since 2008
Contact
0191 4283351
- or -
Email
Attic Property Services is a Letting Agent/Property Management Agent based in Spennymoor Co. Durham. We have been in business since May 2007. We were originally based in Sunderland however, due to the majority of our Properties being in the Sedgefield Borough of Co Durham, we have recently relocated to a shop in Spennymoor.
Services
Letting Agent - Residential
Letting Agent - Residential
Staff
Director - Mrs Lisa Bane
Lettings Negotiator and Admin - Mrs Sam Dawes
Maintenance Manager - Mr Steven Bane
Area of Business
Attic Properties Fully Manage 185 Properties, we also carry out Tenant Finder only option for certain Landlords. Due to the nature of our business and the referrals we are in receipt of, our turned around for Tenanting houses is only a matter of weeks.
Fees
Please contact a member of our Team to discuss our fees.