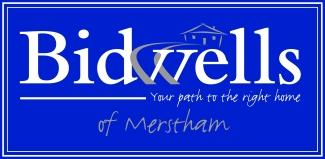 Bidwells
Nutfield Road 53
Merstham, Redhill, Surrey
RH1 3EN
Since 1977
Contact
01737 64 20 60
- or -
Email
Since 1977, Bidwells has gained a reputation for realistic and unbiased advice, high standards of service, professional ethics and ultimately, achieving the best prices on behalf of our clients. Bidwells is a multi-branch, independent estate agency specialising in the sale and letting of residential property within the Surrey area. Its success has been broadly based upon the following simple beliefs:

That we aim to achieve the very best sale price for our Vendor's property. We do this by maximising our exposure to the market place through various forms of media which are more fully explained within this guide.

That Bidwells Property Consultants conduct business in a fair and open manner. We base our practice on the Code of Conduct of the National Association of Estate Agents, of which we are members.

Through commitment, innovation and dedication to service Bidwells has continued to succeed through both upturns and downturns in the property market. Each and every client is valued by us and, we believe, deserves to deal with property consultants who are focused on the sale of their home.
Services
Estate Agent - Residential
Estate Agent - Residential
Letting Agent - Residential
Letting Agent - Residential
Staff
At Bidwells, quality comes through dynamic teamwork. We are making a noticeable difference in the property world by providing the best staff to deliver the best possible customer service, working closely together to achieve the highest results.
Memberships
Team Association

Team is the largest branded network of independent estate agents in the UK, with 450 members offering the very best of both worlds - all the traditional advantages of dealing with an established, independently-owned local firm, backed by the marketing power and range of services that only a major nationwide chain can deliver.

National Association of Estate Agents

The National Association of Estate Agents (NAEA) is the largest estate agency organisation in the UK, representing nearly 10,000 members. It is committed to raising professional standards across all aspects of the property market for the benefit of member agents and ultimately the home moving public. As Fellows of the NAEA we follow a strict code of conduct to ensure the highest standards of professionalism are followed and maintained ensuring you receive the best service available.

The Ombudsman for Estate Agents

The Ombudsman for Estate Agents (OEA) Scheme provides an independent service for dealing with disputes between member agencies and customers who are buying and selling residential property in the UK. As members of the OEA we follow a strict code of practice which is independently enforced and monitored to ensure customer satisfaction.

The Office of Fair Trading

As an independent professional organisation, the OFT plays a leading role in promoting and protecting consumer interests throughout the UK, while ensuring that businesses are fair and competitive. Our tools to carry out this work are the powers granted to the OFT under consumer and competition legislation.

Area of Business
What makes Bidwells different from other agents?

When you instruct an estate agent to sell your home, the choice is normally between a sole or a multiple agency agreement. Although agents normally offer a substantial discount on their fees for the former, many people still prefer to pay the higher commission rates associated with multiple agency, because they think its worth the extra to have several agents working to sell their home, rather than just one. Do traditional multiple agency agreements really deliver more potential buyers, or a quicker sale? More importantly, will the higher commission you pay be offset by someone offering a higher price for your home? The short answer is, No. A buyer won't pay over the odds simply because you arebeing charged a higher agency fee! In fact, the reality is that in a 'winner takes all' situation, some agents may be less likely to invest the time, money and effort required to market your homes when there is a chance that another firm altogether will come up with a buyer. Last, but by no means least, if people see the same property cropping up time and time again with different agents, they may start to wonder if there's something wrong with it. The simple fact is, sole agency is almost always the best bet because it's cheaper, and assuming you chose a good agent in the first place - they will be giving you 100% of their time and effort.
Fees
We at Bidwells have an altogether better alternative to either sole or multiple agency. Team is the UK's largest branded network of independent estate agents - some 600 offices Nationwide, all established leaders in their respective markets. Firms belonging to Team - the UK's largest branded network of independent estate agents - are all computer linked, enabling them to work together on behalf of their clients. Details of your property are automatically made available to every team agent across the region, offering unparalleled market coverage. And since commissions are split between the firm you instruct and the firm that actually sells your home, they're all equally motivated. Within the Surrey group of Team we have 18 local offices within a six mile radius - of whom will market your home, something other agents struggle to compete with. We truly offer a multiple agency service - for a sole agency fee!

Local Advertising