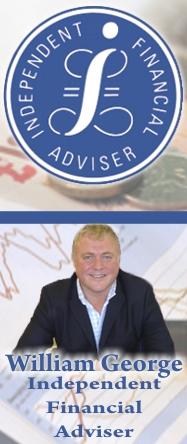 Bill George Independent Financial Adviser
Dickson Street Unit 5
Dunfermline, Fife
KY12 7SL
Since 1992
Contact
0800 321 3508
- or -
Email
I am Bill George, Independent Financial Adviser, I have been giving mortgage advice and pensions advice since 1993.
I offer unbiased and impartial financial advice for personal and business purposes.
I am based in the lovely town of Dunfermline, Fife, Scotland but my clients come from anywhere from Aberdeen to the Borders and the rest of the United Kingdom.
Services
Financial Services & Advice - Independent Financial Advisor
Financial Services & Advice - Independent Financial Advisor
Staff
I have 5 professional and fully qualified staff in Dunfermline who will search for and find the best mortgage advice and financial advice for all our clients.
Memberships
I am an FSA Registered Financial Adviser.
My FSA Reference is WSG00002 and is listed on the Financial Services Authority website
http://www.fsa.gov.uk
Area of Business
Independent Financial Advice in Scotland, offering advice on your mortgage, pensions, retirement, Life Assurance, tax and investments.
I cater for both business and personal clients and specialise in Retirement Planning, Pension Transfer, Mortgage Advice and Investment Advice.
Fees
As FSA registered and regulated Financial Adviser I offer both fee and commission based options.