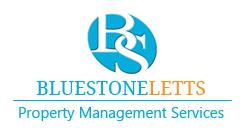 Bluestoneletts Estate Agents
Canning Road Channelsea Business Centre
London, Essex
E15 3ND
Since 2003
At Bluestoneletts we offer landlords and homeowners in London and the UK free rent guarantee with no void periods even if the flat is empty with 0% commission no fee, portfolio development & management.
Services
Estate Agent - Residential
Staff
Bluestoneletts is a family owned independent London estate agents providing reliable services to property owners.
Memberships
Residential Landlord Association
Deposit Guard
Area of Business
Rent guaranteed;
Portfolio development & management;
No void periods;
1 to 10 years rent guaranteed scheme;

We take care of all your tenants' needs, and ensure your property is managed and maintained throughout its term.

We will ensure every area is dealt with professionally from moving in to moving out, including renewals, collecting rent, payments to your account, administration and compliance.

We conduct property inspections on a regular basis for you. We provide you with photos and do our best to give you what you ask for when it comes to the management of your property.
Fees
We don t have extra fees and 0% commission.