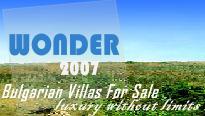 Bulgarian Villas For Sale - Luxury Without Limits
Whittaker Road 8
Slough, Buckinghamshire
SL2 2LH
Since 2006
Land, villa and apartment sales and services, construction and architects. We sell investment land and property on Bulgaria's Black sea coast, in Varna City and the surrounding areas. We provide a reliable and professional service, whether your looking for a holiday property, a new home abroad, or an excellent investment; we will strive to cater for your every need. We aim for 100% satisfaction with every client. Bulgaria's property market rose by a staggering 33.7% last year, so why not invest in your future today?
Services
Estate Agent - Foreign Property
Staff
We are a British based company working with Bulgarian partners, located in Varna. We are a team of reliable, polite and friendly people working with you to make your investment abroad as straightforward as possible. The manager working on our and your behalf in Bulgaria is highly professional and has 10 years experience within the Bulgarian property market, he will be more than happy to assist you with your every requirement. We have a team of excellent architects and a outstanding construction team. Solicitors and accountants and finance advisor are also available when you purchase or build through us. Most of the team are multi-lingual and can speak Bulgarian, Serbian, German, Russian, French and English.
Memberships
On application.
Area of Business
Land, villa, apartment sales and services:
Property management
Construction - Architects
Solicitors
Accountants
Translators
Finance available
Fees
Land prices from 30,000 Euro to 2.2 million Euro.
Apartments from 35,000 Euro to 250,000 Euro.
Villas/houses from 89,000 Euro to 650,000 Euro.