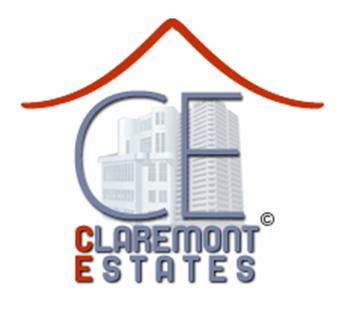 Claremont Estates
Greenfield Road 86
London, Middlesex
E1 1EJ
Since 1990
Welcome to Claremont Estates, London's number one Property Service Specialists.

Whether you are a landlord looking to let your property or someone looking for just the right place to rent.
Claremont Estates can provide you with exactly what you need. We know how hard it can be to make the right choice, so let us HELP you make the best decision.

We are an independent company, that is quickly growing into one of London's top Estate Agencies. Renowned for tailoring our services to suit our customers needs.

If you are looking to let your residential or commercial property anywhere in London or Essex then we can help. We offer our landlords a complete peace of mind service with full maintenance and management services. With us you will always get the HIGHEST possible rent income.

As we advertise in major newspapers and websites, our properties are snapped up quickly so we are always looking to add to our extensive portfolio. If you are interested in adding your property then please contact us for free advice and guidance.

We have a wide range of properties to rent all around Greater London and Essex. Whether it is a short or long term lease you require we can find something that is ideal for you within your budget. If we don't have what you need in our portfolio, we are sure we can find something suitable for you fast!

As our portfolio is fairly extensive and as new properties become available daily, not everything available maybe on the website. Also since quality accommodation tends to let quickly, please call us for up to date availability or just tell us exactly what you are looking for so we can update you as soon as something that meets your criteria is available.
Services
Letting Agent - Commercial
Letting Agent - Commercial
Letting Agent - Residential
Letting Agent - Residential
Staff
Should you require any more information regarding any aspects of our inclusive Landlord Service, feel free to contact our friendly trained staff.
Memberships
We are a registered company with Landlord Accreditation Scheme.
Area of Business
Claremont Estates offers a comprehensive service for all our Landlords. If you are looking to let your residential or commercial property anywhere in London or Essex then we can help. We offer our landlords a complete peace of mind package with full maintenance and management services. Our approach is simple - We aim to get you the MAXIMUM possible rental income with MINIMUM effort and cost on your part!

We are always looking to add to our extensive property portfolio, if you would like us take care of your property please contact us for a free market appraisal. As Claremont Estates is an independent company, we can tailor our services to suit your needs.
Fees
Full Management Service
We would like to take this opportunity to introduce you to our Full Management Service and reiterate our word of honour to provide you with the best possible service in today's rental market. This has quickly become the popular choice with our Landlords as it gives them complete peace of mind and is a hassle free approach to property leasing.

Our full management service includes the following:

Tenant Vetting
Comprehensively checking all references provided by the prospective tenants, and to determine their capability to make payments of rent equivalent to that established under contract.

Inventory List
To obtain an itemised description (inventory) of all items in the property, identifying the quantity and condition of each item, alongside and distinctive features. To establish such description with all tenants that will colonise the property, and to provide the tenants with a second copy of the equivalent.

Damage Deposit
Obtaining a Damage deposit prior to the commencement of tenancy, to hold as cover for items on the inventory list.

Rent Collection
To collect the agreed rent from the tenant, on the date due on a monthly basis.

Property Checks & Notification of problems
To check the property on a frequent basis, subsequently maintain the property from carelessness with regard to cleaning and proper use of the accommodation. To notify the Landlord instantly of any severe contravene of the agreement by the tenants. To notify the Landlord frequently of any status or issue that may lead to any tolerate or subsequently have effect on the smooth running of the tenancy.

Maintenance / Works Service
To notify the Landlord of any maintenance/works that may be necessary to the property, also to offer the Landlord the preference of whether to carry out the works themselves or to indicate our in-house maintenance department to carry out the necessary works. In the case of an emergency, the need of carrying out the works may be required in order to avoid damage to the property. In such incidents, the Landlord will obtain a fully itemised classification of the costs occupied along with the next available rent statement.

Quarterly Inspections
During the course of a tenancy we carry out regular inspections of the property, this is done every three months of the tenancy period. We then forward on a report to the landlord keeping them informed of their property's condition. At the end of the Tenancy Agreement we carry out a complete inspection of the property upon the ending of the agreement and to specify all items that may require replacement/refurbish, to deduct the necessary amount from the deposit as per the requirements of the agreement. To, without delay, forward the amount to the Landlord.

Insurance
We also provide rent insurance for the term of the contract; this includes default of rent and also £15,000 legal cover.

Full Management Charge
Our inclusive Full Management Service is charged at 12%. This is taken on a monthly basis there is no up front fee or any charges to pay.

Rent Collection Only
Our rent collection Service is at 10% of the monthly rent. This is where we don't manage the property but only collect the rent on the Landlords behalf.

Introduction (let only)
Our let only service is at 8%, which works out to be two weeks rent on a six month contract.