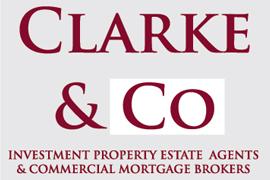 Clarke & Co Ltd
Albert Road 107
Blackpool, Lancashire
FY1 4PW
Since 2003
Clarke & Co is an Estate Agent specialising in Investment Property based in Blackpool. We have a wealth of experience in all areas of the property market including: Sourcing, Sales, Lettings, Management, Development and Finance.

We aim to offer the most complete service available in our chosen field and have been described by many of our clients as a One Stop Shop as we offer a full find, Finance and Manage Service. This has helped us to attract many out of town investors who are interested in the high yielding opportunities that Blackpool has to offer, but have previously been reluctant to buy here because of the logistics of managing their properties from afar.

Clarke & Co. Estate Agents has been founded as an additional string to our already hugely successful Commercial Finance bow, because of our background in the funding of Investment and Commercial Property we already have a vast database of experienced property investors and developers who are always looking for opportunities like yours.

We deal in all areas of Property and Land Based Investment, listed below are a few of the types of opportunities that we cover:

Blocks of Flats and HMO
Off Plan Investments
Hotels and Guesthouses
Development Sites
Potential Development Sites
Leasehold Investments
And Much More

We are dedicated to offering the very best in customer service to all of our clients, whether Buying, Selling, Renting or Financing a property, we are sure that you will find Clarke & Co. to be the best place to put your business.
Services
Financial Services & Advice - Commercial & Buy to Let Finance
Financial Services & Advice - Commercial & Buy to Let Finance
Estate Agent - Commercial
Estate Agent - Commercial
Letting Agent - Residential
Letting Agent - Residential
Search & Buying Advisor - Investment
Search & Buying Advisor - Investment
Staff
Clarke and Co have a small but dedicated team of property professionals specialising in many areas, such as: Sales and Lettings, Valuations and Commercial Finance.
Memberships
We abide by the codes of conduct set out by ARLA, ICBA and the NACFB.
Area of Business
Clarke and Co currently let and manage several hundred properties in the Blackpool area at a staggering average of just over 95% occupancy. Our more recently incorporated Commercial Estate Agency is also taking on approximately 10-15 new listings each week and has a vast list of professional investors waiting in the wings to buy.

We deal in Commercial properties and Residential Buy To Lets typically valuing between £25k and £1million. With an average sale price in the region of £200-£300k.
Fees
Clarke & Co charge a flat rate of 1.5% on Sales and 10% on management; other fees may apply so potential clients should contact us for further details.