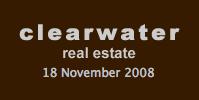 Clearwater Real Estate Ltd
Penn Hill Avenue 125
Lower Parkstone, Poole, Dorset
BH14 9LY
Since 2003
Contact
01202 738338
- or -
Email
Clearwater Real Estate are pleased to announce the launch of our Residential Lettings Department.

We are different from other agencies; we are a modern, upbeat agent and have built a reputation for being refreshingly honest and realistic about property. We are always closely examining the market, looking at ways to improve our services and keep our clients satisfied. We strive to make the Clearwater brand the most reliable and trustworthy in the industry. We are located in Penn Hill a popular suburb of Poole, Dorset and cover the surrounding areas including properties in Bournemouth.
Services
Estate Agent - Residential
Estate Agent - Residential
Letting Agent - Residential
Letting Agent - Residential
Staff
Landlords and tenants please call us and speak to Richard Cross or a member of the team.
Area of Business
Estate Agency - Residential Sales
Letting Agency - Residential Lettings
EPC - Qualified EPC provider
Fees
Please call us to discuss our fees.