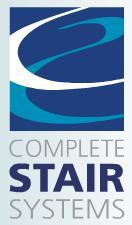 Complete Stair Systems Ltd
Premier Way 19 Abbey Enterprise Centre
Romsey, Hampshire
SO51 9DF
Since 2005
Nationwide suppliers of designer staircases from around Europe. The range of stairs offered is fairly comprehensive from traditional timber staircases to modern glass spiral staircases.
Staff
Nick Rackham has been involved with staircases for 9 years since coming out of University. Mainly works on the sales side but is involved with surveying and installation.

Ben Winton has been on the sales team since leaving University in 2007.

Ed Butler has been on board since summer 2009 to help out with the sales department.

Clare Mays focuses on the general administration and accounting.
Memberships
We are members of the Federation of Small Businesses.
Area of Business
Our most exciting product range is probably our modern timber staircases. These combine traditional timber with contemporary balustrade designs and materials. They are also available in a variety of supporting 'structures' which are designed to be open and allow the passage of light.

Also supplied is a complete range of off-the-shelf kit systems, which are suitable for self-assembly. These are generally sold as secondary domestic models and are generally supported by an interlocking spine instead of stringers.
Fees
Can range from £650 for a basic off the shelf kit system to £15,000 for a fully bespoke design with glass treads.

The average sales value is around £4-5k.