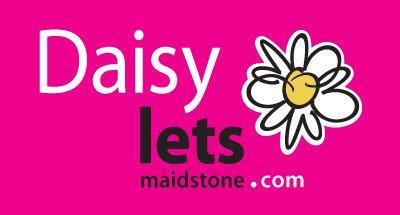 Daisylets Maidstone
The Street 91
Mereworth, Maidstone, Kent
ME18 5LU
Since 2011
Daisylets Maidstone is a dynamic and independent residential lettings agency and property management company based in and around Maidstone.

Daisylets was started in recognition that there is a need for a decent, honest company to manage landlords' properties. Partners Liz and David at Daisylets Maidstone have years of experience in letting their own property portfolios. been tenants in the past so know exactly what each side expects and needs from an agent, and more often than not, doesn't actually get... for example Daisylets Maidstone are happy to conduct evening and weekend viewings if required.

As management and lettings specialists we are fully focused on the priorities and needs of landlords and tenants, and unlike estate agents, our attention is not diverted by dealing with property sales and mortgages.

AwardsDaisylets are not jack of all trades; you won't be blinded by jargon, estate agent patter or sharp suits... you just get a decent, honest service.

No hidden costs, no renewal fees - what we quote you now is what you pay.
Services
Letting Agent - Residential
Staff
Elizabeth Rocca and David Rocca.

Both partners are private landlords with years of experience letting their own property portfolios.
Memberships
Daisylets Maidstone are members of the NLA and subscribe to their code of conduct.
Area of Business
All Daisylets' properties are dealt with by both Liz and David ensuring that you will always have continuity of service... You won't have to deal with multiple agents or keep repeating yourself on the phone again!

We also only manage a small amount of properties, we keep it this way to ensure that you are always top of our priority list and our standards remain high.

Our service to you

Visiting you at your property, and providing a rental valuation and any other advice which you may require about letting your property.
Free professional advice to ensure your property meets regulatory requirements.
Professional digital photographs and a web page dedicated to your property.
Free board (unless you would prefer none).
Free listings on leading websites including a major property portal.
Accompanying tenant applicants to view the property
Credit checks and references approved by professional agencies - all tenants are fully referenced (bank, employment, previous landlords and criminal and other databases).
Obtaining guarantors if required.
Preparing a suitable tenancy agreement and arranging tenants' signatures.
Collecting and holding a deposit as stakeholders (fully protected) from the tenant.
Preparing an inventory and schedule of condition.
Checking the tenant into the property and agreeing the inventory.
Supervising the transfer of gas, electricity and council tax accounts into the tenant's name (management service only).
Receiving rental payments monthly in advance, and paying you promptly, together with a detailed statement.
Inspecting the property periodically, and reporting any problems to you (management service only).
Arranging any necessary repairs or maintenance, first liaising with you in the case of larger works (management service only).
Keeping in touch with the tenant on a routine basis, and arranging renewals of the agreement as necessary (management service only).
Checking tenants out of the property as required and re letting (management service only).
Details on file: We will store your property details so that we can immediately remarket, and place it back on the web, as soon as you are given notice (thus reducing the chance of void periods).
Fees
We don't charge for many of the "extras" other high street agents do and we charge less for management.

Letting only

Finding a suitable tenant for your property with free AST agreement (Assured Shorthold Tenancy), reference checks, receiving deposits and 1st month Rent.
3 weeks rent (no vat to pay!) with a minimum of £250, free AST.

Letting and collecting rent

When a suitable tenant has been found, our initial letting fee is 2 weeks rent and rent collection is 7% of monthly rental payments (no vat to pay!), Regular statements are issued to the landlord, plus free AST.

Letting & management

After a tenant has been found, our initial letting fee is just 2 weeks rent and our ongoing management commission is only 10% (no vat to pay!) of monthly rental payments, free AST.

What we quote is what you pay.

Optional charges when renting your property

Daisylets make a point of charging no commission should the tenants remain in the premises after the initial fixed term or to renew a contract if requested (we understand that we are one of only a handful of London based residential agencies offering this as standard practice). We also do not make a further charge to the tenants.

£75 for Gas Safety Certificate (if you do not already have one).
From £75 check in/out and preparation of full independent inventory, price varies depending on property size and furnishing.
Professional clean - price dependent on size of property and condition.
Obtaining possession/representing landlord in court - cost to be discussed if ever required.
No let - no fee.

We only charge you a letting fee once we find you a fully referenced tenant that you are happy to sign an Assured Shorthold Tenancy Agreement for your property.

All our lettings fees are non exclusive (you are not tied solely to us).