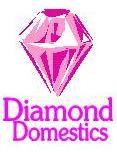 Diamond Domestics UK Cleaning Services
Fresca Road 7
Oldham, Lancashire
OL1 4NN
Since 2005
We provide a professional, reliable and trustworthy cleaning services to both the domestic and industrial sector.
Services
Domestic Cleaning Services - Home Cleaner
Staff
We have a dedicated team of highly competent cleaners who are fully trained and undergoing NVQ2 training.
Memberships
None at present.
Area of Business
We provide a cleaning services to Domestic Clients, House Builders, Social Services, Offices and Letting Agents.
Fees
Our fees are dependent upon the level of service required.