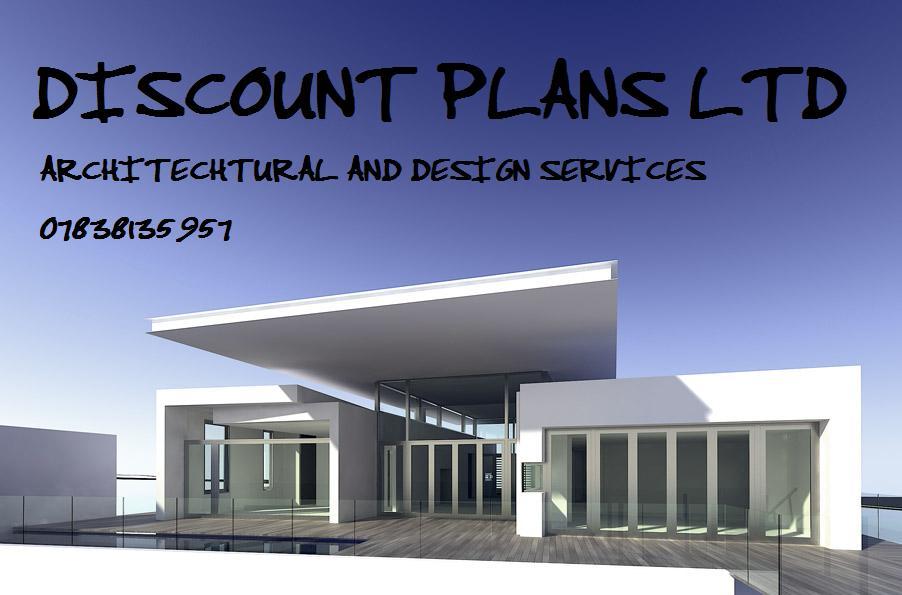 Discount Plans Ltd
Raglan Avenue 68
Waltham Cross, Hertfordshire
EN8 8DD
Since 2005
Discount Plans Ltd aims to give a high quality and efficient service to provide effective and imaginative solutions to design problems to all home owners, investors, builders etc. in need of a high standard of technical scaled Autocad drawings. In achieving this aim strong emphasis is placed on personal attention to client's needs and what can be achieved within realistic time and cost constraints at an affordable price, which will not be beaten not like other architects.

Our company mainly specialise in planning Sub-missions to borough councils in the London and Hertfordshire districts. We made a unbeatable 100% success rate on approved planning applications for 2008. We as a company achieve this high rate through many years of understanding, town planning issues, policies and inside relationships with borough council officials and planning officers.

Discount Plans Ltd have been established for 5 years now designing and offering a planning service for all, we have a large clientele from local development authorities, property developers, celebrities to your normal home owner. We have expanded to 4 offices during the years which cover all of London, Cambridge, Essex and Hertfordshire boroughs to accommodate for a more effective service to our clientele. All our staff are fully qualified with minimum of 10 years experience in the profession.

Discount Plans Ltd has achieved a successful business customer relation by putting the client first, we look at the client needs and treat you how you would like to be treated, without you we would not be in business today during these times.

We take great pride in reassuring and explaining on all stages to step by step procedures on how our company's policies works from the first survey to the final approved decision.

We hear the same story time and time again from clients concerns over cost, value and service. This has often left homeowners feeling daunted by traditional architectural practices who offer confusing, all-inclusive packages that provide little flexibility and tend not to be available for small renovation projects.

Discount Plans has revolutionized traditional architect's working methods and developed a unique fixed fee money-back service that makes architectural design accessible to all home improvement projects regardless of their size, complexity or budget. By us passing our confidence to you we get results. No pass No fee - that's our policy: we deliver survey appointment times within 48 hours; drawings produced in 2 working days; we act as your agent free of charge; we design in the comforts of your own home; we organise and submit planning applications to borough councils; we offer like no other company a full money back guarantee on your proposed dream design. So spread the word ! ! and let us take your project on board.

Included in our service we act as your agent free of charge, this is all part of the planning pack fee. We take the hassle and time by taking over the procedures in submitting a planning application to your local borough council off your hands. From the first call we will take care of every procedure in submitting an attractive planning application pack for your councils planning department. This includes a full description report on your proposed development including photos and scaled O.S. site plan scaled 1:1250 with your property boundaries marked out in red, all existing and proposed plans, elevations from ground floor to roof level all forms and applications filled in, and an access and design statement to back up proposed description of your new design.
Staff
Mr John A Domenech MBEng - Head Surveyor
Mr Abel Isouza hnd - Senior Architectural CAD technician
Mr Samson Ho hnc - Structural CAD technician
Mrs Rachel B White - Architectural technician BA (hons)
Memberships
Mr John A Domenech MBEng - Head Surveyor
Mr Abel Isouza HND - Senior Architectural CAD technician
Mr Samson Ho HNC - Structural CAD technician
Mrs Rachel B White - Architectural technician BA (hons)
Area of Business
We cover London and all of Hertfordshire.

We are the first call for your proposed project big or small we cater for all.

Loft conversions, single to double storey extensions, change of use designs, garage designs and conversions, swimming pools, house to flat conversions, new build designs, landscaping, conservatories, autotrack path analysis, topo surveys, access and design statements, builders quotes, design and build, specifications, building REGs.
Fees
Please contact us for a free quote.

Our process will not be beaten by any other architect.

Also our 100% money back service is our way of showing you the customer our confidence in passing your job through the planning process.