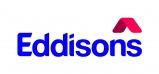 Eddisons Manchester
King Street 55
Manchester, Lancashire
M2 4LQ
Since 1844
Eddisons is a leading firm of Chartered Surveyors operating a national network of 8 offices throughout the UK and 2 offices in Ireland. Employing over 200 members of staff, we are committed to having the right people in place to provide a first class service to our clients. Serving the major cities and towns of Leeds, London, Manchester, Birmingham, Bradford, Bristol, Glasgow, Huddersfield, Dublin and Limerick the ethos of Eddisons is to provide a multi-disciplinary service to Banks, Insolvency Practitioners, Owners and Occupiers of commercial property.
Services
Surveyors & Engineers - Chartered Surveyor
Letting Agent - Commercial
Search & Buying Advisor - Investment
Search & Buying Advisor - Commercial
Staff
Eddisons employ in excess of 200 members of staff across the ten offices. Whilst we are proud to have been founded in 1844, we always strive to adapt and evolve our business practices to meet the changing needs of our clients, year by year.

We are members of the RICS (Royal Institution of Chartered Surveyors), ARMA (Association of Residential Managing Agents) and BIFM (British Institute of Facilities Management), and as such abide by the codes of practice that these organisations set out, giving you extra peace of mind.
Area of Business
We are proud to be able to offer our clients a complete solution for all their property requirements. Our key services include:

Property Auctions

Commercial Property & Land Disposals

Machinery & Business Assets

Business Rates

Landlord & Tenant

Building & Project Consultancy

Insurance Services

Insurance Valuations

Remote Property Monitoring

Licensed, Leisure & Hotels

Commercial Property Management

Facilities Management

Capital Markets

Banking & Insolvency Services

Valuation Services

Block Management

Asset Management

Why Choose Eddisons?
Established History
Director Led
Solution Orientated
Responsive Service
Flexible
Independent
Integrated Solutions
National Coverage, Local Solutions
Fees
No Win No Fee on Business Rates Appeals www.eddisons.com/rating