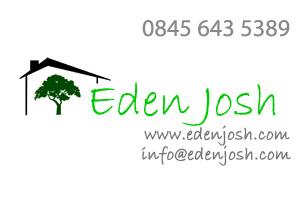 Eden Josh
PO Box 58862
London,
SE15 9AT
Since 2008
Contact
0845 643 5389
- or -
Email
We are your local, experienced, professional and reliable residential letting agent offering lettings in and around Westminster, Greenwich, Southwark, Dulwich Village, Camberwell and Peckham.

Initially formed of landlords with more than 12 years experience in property, marketing and sales, we are fully focused on the priorities and needs of all of our clients. We are aware of the multitude of problems landlords face in securing reliable and profitable tenants. To capitalise in the ever increasing lettings market, we offer a wide range of tailor made services.

Extensive knowledge of the local area coupled with existing property management contracts means we can a provide the answers to all of your lettings concerns. Please have a look at our landlords and tenants pages to view our guarantees to you. We like to think other lettings agencies cannot provide these types of guarantees to their clients.

If we can be of assistance in any way please do not hesitate to contact us by email, telephone or fax.
Services
Letting Agent - Residential
Staff
David BSc - Director
Desrae Van de Wetering - Sales & Marketing Director
Erika Piper - Sales & Marketing
Memberships
We are consistently mentioned in articles in our local papers for the South London Press, Mercury Post and Southwark News.
Area of Business
We provide a tenant find service of only 1 week's rent with lettings and property management for all landlords in the South East and Central London areas.

We are also authorised utilities warehouse distributors whereas we can provide you with low cost utilities like: Gas, Electricity, Internet, Mobile and Landline calls.

Eden Josh also provide landlord insurance, tenant insurance and landlord rent guarantees.
Fees
For tenant find, we are currently charging a fixed fee of only 1 week's rent which is very competitive in this current market.

Rent management whereas the landlord is guaranteed his rent every month for the period of the is only charged at £25 extra per month of the rent.

Full Management of properties are charged at 10% per month.