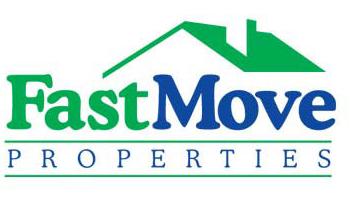 Fastmove Properties Ltd
Cairo Street 21
Warrington, Lancashire
WA1 1EE
Since 2005
Fastmove Properties is an up and coming fast paced, young, fresh dynamic estate agent with a mission to offer a simple straightforward service. Founded in 1995 by a single minded individual with a passion for success, Fastmove Properties has gradually grown with the market to get to where we are today. With our wealth of property experience we aim to get you "fast-moving" by getting your home seen by as many potential buyers as possible. With our friendly, experienced team we offer everything you need under one roof to make moving less stressful and much more enjoyable. With our extremely competitive rates you will find us the ideal choice.

Our in-house marketing team will get your property advertised in all the right places including local papers, our own website and all the best internet sites including Rightmove. So put your ideas into action and call us today for a fast, effective, friendly, up to the minute service. We guarantee you will be impressed whether you are looking to sell or buy so call today with no delay to find out our Amazing Introductory offer. (Best price in the North West)
Services
Estate Agent - Residential
Estate Agent - Residential
Staff
James has a decade of experience within the local property market and is known as "our specialist". He is known as an entrepreneur with a vision and has been very successful in investing in property in his own portfolio. His passion for growth and development is unsurpassed. His knowledge of understanding the investment market has made him an expert in investment property. He is an optimist by nature and never says "it can't be done"!

Name : David Johnson

David joined FastMove in February 2007 and has recently obtained a degree in Real Estate at John Moores University.

Name : Hayley-Jane Roberts

I have been with FastMove Properties from the beginning, after having worked in the industry for the past 4 years. I have enjoyed watching FastMove grow and love helping clients find there dream home. My role as the Branch Manager involves a little of everything so please don't hesitate to call me regarding anything. My team are highly trained and a joy to work with.

Name : Nicky Higham

FastMove Properties mortgage advisor, Nicky, is available at all times to offer free independent advice on mortgages and related products and is happy to arrange a home visit if this is more convenient. Nicky has worked in the financial sector for the past ten years and previously worked for Nationwide and Barclay's both in commercial and residential lending.

Name : Remo D'Anza

FastMove Properties mortgage advisor, Remo, is available at all times to offer free independent advice on mortgages and related products and is happy to arrange a home visit if this is more convenient. Remo says "I have worked in financial services for over 16 years and have access to the whole of the mortgage market. I can source the best mortgage product to suit your requirements using state of the art technology with ongoing support to you from mortgage application to completion."

Name : Sheena Chadwick

There are many qualities and skills that go into being an excellent Lettings professional - integrity, in-depth community and market knowledge, marketing savvy, effective negotiation skills and a high-quality professional network, all of which are hallmarks of how I work. That said, in my experience as a Local Letting Agent professional, I've also found that providing the very best service is essentially about putting my clients first. This means keeping myself accessible, being a good listener as well as a good communicator, and responding quickly to your needs. This "client first" philosophy has always been my approach and it requires me to continually improve my skills and ways of doing business. In addition, I've found that the latest technologies are enabling me to do everything I've always done, only much more quickly and efficiently. They've also helped me to extend the range of services I provide to my clients.

Name : Tony Wright

Senior Sales Negotiator Tony is the newest member of the Fastmove team joining us in mid 2007.
Memberships
Ombudsman of Estate Agents
ARLA Registered
Area of Business
Whether you are a buyer, seller, tenant or landlord, we are able to provide an excellent personal and high standard of service, we feel your choice of Estate Agent is equally as important as your choice of solicitor or other professional body.

At Fastmove Properties we can offer you the most competitive rates in the North West.
Fees
Contact our Warrington Office to discuss fees.