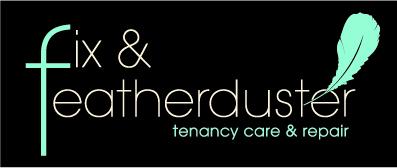 Fix & Featherduster
Mobberley Road 49
Knutsford, Cheshire
WA16 8EQ
Since 2008
Fix & Featherduster is more than just a cleaning company; we provide a unique combination of services to Landlords, Letting Agents and House Movers, offering valuable advice on property presentation as well as a complete repair and end of tenancy cleaning service.

As an experienced property developer and landlord I know how hard it is to effectively prepare a property to let or sell. We specialise in the care and repair of properties and provide a bespoke service. Having my own team of tradesmen means I have the resource at hand to tackle all maintenance and cleaning issues quickly and efficiently. Empty properties are kept clean and tidy, enabling you to re-let or sell as quickly as possible.

Our "One Stop Shop" approach is proving popular with Estate/Letting Agents and Landlords, as it speeds up the tenancy turnaround time and we are fast becoming the "agent's choice" across Cheshire and South Manchester. We can also extend this service to tenants to ensure the return of their deposit, as well as house movers and home owners requiring a one-off clean.

If you have a tenant who is about to move house, or a client struggling to prepare their property to let or even a vendor who just needs a hand on moving day ! Moving house can be stressful enough without having to clean as well.
Services
Domestic Cleaning Services - Home Cleaner
Domestic Cleaning Services - Home Cleaner
Staff
Established in 2008 we are an expanding team offering a bespoke service.
Memberships
Not applicable.
Area of Business
We target Letting/Estate Agents as well as landlords offering a full spectrum of services to prepare properties to let or for sale.
Fees
Our Fees start from £90 per day.