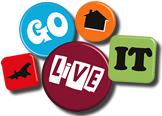 Go Live It
Hotham Street 7
Liverpool, Lancashire
L3 5PD
Since 2006
Go Live It is a complete student accommodation resource for international students looking to make the most out of their year abroad.
Services
Search & Buying Advisor - Residential
Staff
The team at Go Live It is hard working and always on hand to help. We have a number of international employees and are always looking to grow.
Area of Business
If you are moving to the UK as an international student and you are need of help to find a suitable place to live, then our accommodation finder service is perfect for you. We will take care of all the administrative side of booking you a room and making sure that everything is ready for you to move in when you arrive.
Fees
The accommodation finder service is a bargain at £55 per student. If you are interested please see our website for further details.