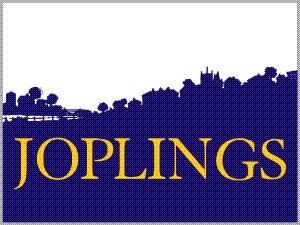 Joplings
Market Place 19
Thirsk, North Yorkshire
YO7 1HD
Since 1852
We are small company with two offices (Ripon and Thirsk). Joplings was established in 1852.
Services
Surveyors & Engineers - Chartered Surveyor
Surveyors & Engineers - Chartered Surveyor
Estate Agent - Residential
Estate Agent - Residential
Estate Agent - Commercial
Estate Agent - Commercial
Letting Agent - Commercial
Letting Agent - Commercial
Letting Agent - Residential
Letting Agent - Residential
Staff
We have 6 members of staff:

3 in the Sales Team
3 in the Rental Team
Area of Business
***Residential and Commercial Sales***

We offer a unique service, using expert local knowledge and many years of experience in the buying and selling process. Our staff are always here to help with any questions or queries and always with a smile!

If you are thinking about buying or selling your home then please feel free to come in and have a chat with us we are always here to help!

***Joplings Rental Department***

Deciding which Agent to instruct to let your property can be a very daunting thought.

As a homeowner or Investment Landlord who has taken care and pride in their property, you want to ensure that your Letting Agent will find Tenants that will continue to maintain the property to the highest possible standard as well as paying their rent on time and in full.

As a Letting Agent we take a personal interest in providing you with the best possible service and have a careful selection process for Tenants.

We currently manage over 250 properties in the Thirsk and Ripon area and our team is headed by Mrs Claire Ryder who manages both the Ripon and Thirsk Offices. Our staff have an in-depth knowledge of the letting market, to achieve the best possible rent for your property and the technical know how to oversee and manage your property for a hassle free term of tenancy.

Whatever your needs, we are sure to have the answer for you. Our specialist rental valuers and management team are always on hand to provide you with advice as well as securing you the correct Tenant for your property.

What to look for in a Letting Agent

- Personal Service
- Careful Selection Process
- In depth knowledge of the letting market
- Up to date letting advice
- Local office for advice at all times
- Prompt Accounting
- Letting Only or Full Management Service
- Regular Weekly Advertising
- Market Place Office Presence


***Survey & Valuation Department***

Whatever the type of property an independent survey enables potential purchasers to fully evaluate their investment. We are in a position to provide a comprehensive range of surveys to homebuyers and property owners. Our broad range of professional expertise enables us to provide a survey report tailored to your needs. This can incorporate current market valuation and insurance reinstatement advice. Joplings provide the following survey services:

- building survey - An investigation and assessment of the construction and condition of a building.
- elemental survey - An elemental or specialist investigation where concerns exist over specific parts or defects in building.
- condition survey- A schedule of condition will record the condition of a building at that particular time.
- homebuyers report - A report which will advise on value as well as giving factual information on significant aspects of the condition of the property to the potential purchaser.
Fees
Our services include:

- Free valuations
- Probate valuations for property & contents
- Competitive Fees
- Advertising on www.rightmove.co.uk, www.vebra.com, and our own website www.joplings.com
- Accompanied viewings available at weekends and outside office hours
- Excellent marketing facilities
- Expert knowledge of the local area
- Expert advice from professional and helpful staff
- Advertising regularly in the local press
- We produce exclusive and detailed brochures with as many pictures of your home as you would like or anything extra you would like to add
- 3d Floor Plans
- Aerial Photographs (If required)
- Free "For Sale" boards
- Advice on any aspect of the buying or selling process
- We have a large comprehensive database which is looked after on a daily basis
- Working mailing list
- Unrivalled local knowledge
- Personal and sensitive service
- Help with everything from meter readings to solicitor "jargon"