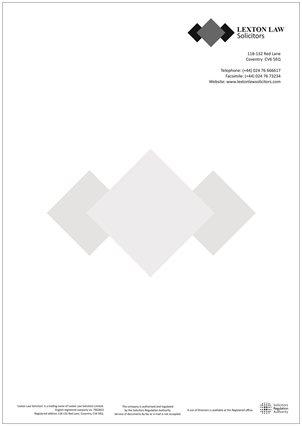 Lexton Law Solicitors
Red Lane 118-132
Coventry, Warwickshire
CV6 5EQ
Since 2012
Contact
02476 666617
- or -
Email
Lexton Law Solicitors offer a full range of legal services to a diversified client base.

Our solicitors and in house Barrister have decades of expertise in all aspect of the law and speak a number of languages including, Gujarati, Punjabi, Urdu and Hindi. We offer particular value to our clients through our ability to serve them efficiently and competently to meet their needs
Services
Lawyer - Solicitor
Lawyer - Solicitor
Staff
Director

Mohammed Shabir Sarwar: Barrister, called to the Bar by the Honourable Society of Lincoln's Inn in July 2000.

From work and practice, Mr Sarwar has built up extensive and in-depth knowledge and experience in the fields of Immigration and Asylum Law, Human Rights, Family Law, Terrorism and National Security including SIAC casework and Court of Appeal representation. Mr Sarwar regularly undertakes Judicial Review work at High Court level.
Mr Sarwar has aquired in-depth knowledge and experience of Civil Litigation and has been involved in cases with claims ranging from of £5,000 - £250,000. A recent Construction dispute case was successfully resolved by way of Adjudication in favour of the client with an award of £135,000.


Shakeel Khan: Senior Solicitor graduated with LLB Hons in September 1998.

Mr Khan is a specialist immigration solicitor with over 13 years experience. Mr Khan gained immigration experience Before qualifying as a solicitor in 2003. His expertise includes handling entry clearance, spouse visa, visitors' visa and applications under the tier system. Mr Khan frequently appears at the tribunals and assists clients with lodging applications to the High Court, Supreme Courts and the European Court of Justice. Over recent years Mr Khan has successfully obtained sponsorship Licences for many of the local businesses.

Whilst managing a full case load Mr Khan offers a bro-bono clinic every Friday at GMP temple in Coventry and appears on the international channel; Noor TV weekly offering viewers free immigration advice.


Khatija Miah: Associate Solicitor graduated with LLB Hons in September 2002.

Ms Miah specialises in Commercial Lease, Conveyancing and Wills & Probate.

Ms Miah primarily advises on all aspects of commercial property transactions including; commercial sales and purchases to drafting and negotiating leases. She also has experience in dealing with residential property transactions including; sales, purchases, remortgages, deeds of gifts and declarations of trusts.

Ms Miah has also acquired extensive experience in wills and in handling probate for clients.
Memberships
The Law Society
Area of Business
Conveyancing, Leases, Family, Wills and Probate, all aspects of immigration law, Change of Name Deed, Power of Attorney, Lasting Power of Attorney, Affidavit, Sponsorship Declaration.

- Advocacy;
- Immigration & Asylum casework & representation at AIT/ First & Upper Tribunals/ High Court & Court of Appeal;
- Special Immigration Appeal Commission (SIAC) work involving Terrorism casework;
- Human Rights & EEA Immigration law casework and representation;
- Employment Appeal Tribunal casework & representation;
- Welfare Rights & Social Security Tribunal casework;
- HM Tax Commissioners & Tax Tribunal casework;
- Criminal Defence casework and representation at Magistrates & Crown Court;
- Family Law casework & representation;
- Arbitration & Adjudication casework;
- Civil Litigation casework at County Court/ High Court/ Court of Appeal;
- Bankruptcy & Insolvency casework;
- Personal Injury casework;
- Landlord & Tenant including Housing and Repossession casework;
- Charity & Trust law casework;
- Undertaken all types of Tribunal Courts casework & representation;
- Trials and representation at Magistrates Court/ Crown Court/ County Court/ Family Proceedings Court/ High Court/ Court of Appeal;
- Judicial Reviews & Injunctions casework including drafting and representation at High Court/ Court of Appeal for Immigration, Licensing and General Medical Council cases.
Fees
Special rates for a limited time only:

Immigration Appeals £500 No Vat.

Sale of a Property £250 legal fee plus disbursements of approximately £28.00.

Commercial Lease:

Assignment £650.00 No Vat.

Purchase £650.00 No Vat.

Please contact our offices for a quote on the special rates available in other areas.