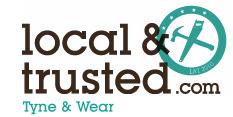 Local And Trusted (Tyne and Wear)
Benton Square Industrial Estate Wesley Way
Newcastle Upon Tyne, Northumberland
NE12 9TA
Since 2011
Local and Trusted has three fundamental and simple aims!

To provide Homeowners with the best possible chance of finding reliable, local and trusted tradesmen easily and securely;
To provide reliable, local and trusted tradesmen with a quality and affordable platform by which to demonstrate their ability to provide an excellent service to homeowners, and;
To build long lasting and worthwhile relationships with tradesmen and homeowners alike by offering exemplary customer care.

Whilst it is not our place to rid the marketplace of "cowboy" tradesmen the aims outlined above will, we hope, make their opportunities to cash in on the vulnerable or unknowing far more difficult.
Services
Builder - General Builder
Staff
Local and Trusted was formed by Steve Hair and Terry McGuinness in 2010 with the Website itself being launched in March 2011. Steve and Terry are both from the Newcastle area and have over 50 years construction related experience between them. Indeed Steve still runs a small construction and development company today.


Given their backgrounds both are acutely aware of how difficult it can be for good, honest trusted builders to get the exposure they deserve at an affordable price. Equally, it can be difficult for busy homeowners to find tradesmen they can trust quickly and easily without wading through countless small ads or trawling the Internet for hours on end. Steve and Terry decided to do something about it and after months of research and development Local and Trusted was born.
Area of Business
We provide you with builders, plumbers, electricians, carpenters, bricklayers, handymen and general tradespeople.
Fees
We work on a multi quoting system, allowing you to see quotes from many different tradespeople.