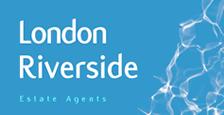 London Riverside
Dock Road Unit G5. Waterfront Studios Business Centre. 1
London,
E16 1AG
Since 2003
At London riverside we specialise in sales, letting and management of riverside properties. Now with an amazing assortment of stunning developments, outstanding river views and excellent transport facilities, the river Thames has become London's most desirable location to live.
Services
Estate Agent - Residential
Estate Agent - Residential
Letting Agent - Residential
Letting Agent - Residential
Staff
London Riverside Estate Agents are specialists in Sales, Lettings and Property Management of properties on the North and South sides of the Thames. We offer excellent opportunities and careers for all our employees, whether they are Negotiators or they work in Property Management or Administration. We believe that creating a high-energy, dynamic environment, with continuous support and training, will bring the best out in people and future success for the company.

The most important quality we look for is honesty and integrity, the most important characteristic in the successful management of our relationships with our clients and customers, followed by enthusiasm, energy, and a positive attitude.
Memberships
Ombudsman.co.uk
Area of Business
Experience teaches us that marketing campaigns is imperative in the property process, we also feature your property in our extensive "high profile" advertising, direct profiling with relocation/corporate companies, and direct mail campaigns, with a huge internet presences putting your property in front of 1,000's of potential corporate and professional tenants.

- We appreciate the stresses related to moving and Selling property, therefore maintain a high level of customer liaison, in order to alleviate the pressures involved.

- We pride ourselves on our extensive database of high quality properties, from studios to multi-million pound developments.

- We manage a large portfolio of properties for sale and rent. We also focus on finding accommodation for corporate transfers and relocation.

- Through our intensive marketing on the internet, people contact us from all around the world to find them properties for all their residential/investment and rental needs.
Fees
Feel free to contact the office to discuss our charges and fees.