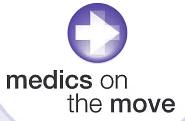 Medics on the Move
Sharpe Way 8
Narborough, Leicester, Leicestershire
LE19 2RE
Since 2000
The Leicester Office of a national relocation and home search service for: medics, lawyers, accountants and all busy professionals.

A dedicated personal service, making it easy to find a home.

"When you are working long and often anti-social hours the added stress of finding a new home to buy or rent can be too much - especially trying to fit this into weekends and days off.

As busy professionals we understand the need to provide a flexible, personal and stress-free service."
Services
Search & Buying Advisor - Residential
Staff
Offering an unbiased and dedicated property search service, our independent, professional and fully trained team acts in your best interests every step of the way. We make it easy for you to relocate to a property in Leicester with minimum disruption to your private life.
Memberships
All are staff are BTEC Level 2 qualified in Lettings and Management, and are NALS accredited.
Area of Business
If you are looking for private rented accommodation or searching for a flat, apartment or house to buy in Leicester, Medics on the Move is here to work for you.

We have a personal knowledge of the whole of Leicester and can find the right place for you.

The areas of Stoneygate, Knighton, Clarendon Park and Oadby to name but a few, offer great living and close to a range of amenities you would expect in a large city centre like Leicester.

Our personal service buys time for all busy professionals - medics, nurses, accountants, solicitors, managers, whatever your role, we have the experience and knowledge to help you find a home and settle into your new life. We take on the stress and strain of finding a new property in Leicester whether it's to rent or buy. Whatever your requirements, we'll do our best to identify the most suitable property in the most suitable area for you and your family.

From locating schools to finding a home that matches your partners commuting requirements, you can depend on Medics on the Move.

Christine is married with children. She was been born and brought up in Leicester and has continued to live and work there for many years and so knows the area extremely well.

Having worked for large companies she has an inside knowledge of the demands on busy professionals in today's society.
Fees
Fees vary depending on the type of service received.