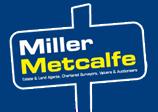 Miller Metcalfe
Bradshawgate 56
Bolton, Lancashire
BL1 1DW
Since 1891
We are a team which operates all over Bolton. Miller Metcalfe has been around since 1891 est. We now have two buildings which are joined together in order to give the purchaser the best deal around. Our new building is called 'Enlighten Enviro'. This is the Commercial, Survey and Valuation side off Miller Metcalfe.
Services
Estate Agent - Residential
Letting Agent - Residential
Staff
Miller Metcalfe
Enlighten Enviro
Memberships
RICS Accredited
100 years experience between our surveyors
Area of Business
Miller Metcalfe Prestige
Miller Metcalfe Commercial
Miller Metcalfe Survey and Valuation
Enlighten Enviro
Fees
Our admin fee is a fixed rate of £120 per tenant which includes all admin, contracts, references etc. Deposit is dependent on the property.