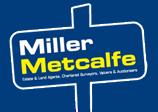 Miller Metcalfe
Institute Street 11
Bolton, Lancashire
BL1 1PZ
Since 1891
Our main surveyors head up a team with over 100 years of property experience, and have covered almost every area of expertise in the property field. They in turn are supported by a sales and administration support staff with almost 80 years of experience. This ensures that no matter if you are a private client in need of a Homebuyers Report or a national bank with hundreds of properties in need of valuing; you will be looked after by an experienced and professional team with the best interests of our clients at heart.
Services
Surveyors & Engineers - Chartered Surveyor
Staff
- John Peacock - Technical Director; Surveyor BSc, RICS

- Brian C Ashworth - Chartered Surveyor; FRICS, Dip.Est.Man, DEA

- Vincent Clifford - Surveyor; MSc, BSc, mrics, mciat, aciob, mb Eng

- Adrian F. Goulding - Surveyor; BSc, mrics
Memberships
RICS accredited.
Area of Business
- Completed the letting of a restaurant in North Bolton at £25,000 per annum.
Valued for secured lending purposes a former bakery in Littleborough - £300,000.
Advised retail tenant client on a rental dispute - £35,000 per annum.

- Inspection of TNT premises across the UK.
Expert witness work for mortgage lender.
Inspection and surveys on a variety of commercial premises.

- Valuation appraisals of portfolios of Social Housing in the Midlands and North West of England.
Undertaking Residential Valuations and Homebuyers Reports for corporate and private clients.
Right to Buy, Probate and Matrimonial Valuations.
Residential EPC's.
Fees
Homebuyers reports vary from £225-£900 + vat depending on value of the property.