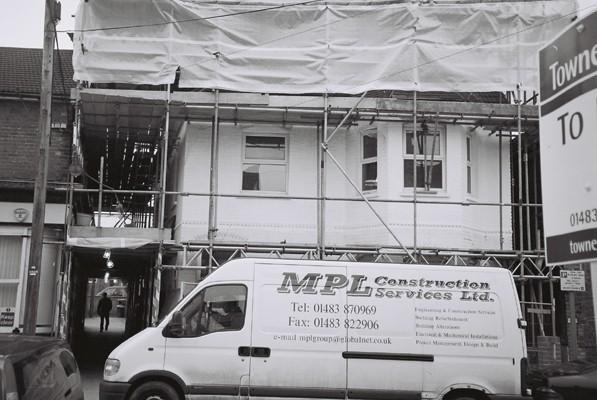 MPL Construction Services
Guildford Road Havering Farm
Sutton Green, Guildford, Surrey
GU4 7QA
Since 1992
Do it right first time!

MPL's experience in Internal and External Building Refurbishment, Renovation and Alterations, both on modern and period properties is second to none.

We give each and every project our personal and professional attention. Our full commitment is given from the moment of the original enquiry, through the design stage and during the entire build process until your project is completed.

As Trust Mark approved company, our work is fully guaranteed and we are proud to offer our clients a full Federation Of Mater Builders (FMB) MaterBound Warranty underwritten by Zurich.

It's all part of the MPL Service.
Services
Builder - General Builder
Builder - General Builder
Staff
Through our small but highly qualified directly employed team and long-term partnerships with specialist contractors we are able to offer all, in part or any (dependent on the client's requirements) of the following services:

- Refurbishment Works
- Civil works and capital projects
- Electrical Installation
- Mechanical Installation
- Site Supervision
- Site Management
- On site Health & Safety Co-ordination
- Quality Assurance
- Clerk of Works roles / duties
- Project Management

Our aim is to be as flexible as the client requires. We will tailor our services to match or accommodate any solution that the client requires within our portfolio of services.

We have worked for or on behalf of an extensive list of clients from a large range of backgrounds and disciplines. Our client base has ranged from specialist aeronautical industries, general commercial property developers and managers, environmental engineering sectors to Site Facilities Managers and professionals.
Memberships
Federation of Master Builders (FMB)
FMB Master Bond Member
Government Trust Mark Scheme approved
Area of Business
Need more space? Do it right first time!

You've always wanted to extend your home, make use of that basement or loft space, need a home office or garden room or simply if your kitchen needs updating. From the initial design and planning to construction, through to the interior finishing, with MPL you can be confident that your project is in safe hands.

Whatever your home improvement / refurbishment needs, be sure that you get the best possible advice, service, and aftercare. Talk to MPL. As a Trust Mark approved company, our work is fully guaranteed and we are proud to offer our clients a full Federation Of Mater Builders (FMB) MaterBound Warranty underwritten by Zurich.

We have extensive experience in extending, re-modelling, renovating and conversion. For all our projects, we will produce a full set of documented:
- Schedules/Specification of Work
- Drawings
- Fully detailed quote

We guarantee all our works which is covered by a Insurance Backed Warranty and we deliver works only to the highest standard of workmanship and our attention to detail ensures our reputation. Our hands-on approach to management ensures that your project runs on time and that any unforeseen problems or design changes are discussed with you in detail and if necessary price are agreed before any variations to the original specification are carried out. In this way we ensure the project stays on budget and is completed to your satisfaction.
Comprehensive preparation and management MPL ensures professional performance, and our client's complete satisfaction. That's why we take the scope of works and planning of your project extremely seriously.

- A free of charge, informal discussion,
where we'll discuss your requirements and answer any questions you may have;
- We are happy to give an initial budget estimate for the work;
- A detailed quotation/fixed price will be supplied once a schedule of works and materials have been agreed.
Fees
Fixed price contracts

Your budget is based on our detailed discussions and on the Building Regulation specifications passed by the relevant local authorities*. It comprises details of materials, project management, and implementation fees, including added-value services such as interior decoration. Providing you make no changes or additions to the approved specifications, this budget is binding on us.

*Footings calculations are based on a maximum depth of one meter as per local authority standard, unless otherwise specified.
Payment schedule

Initial 10% of the agreed total budget books your start date. We'll agree a schedule of payments and advise you of the retention figure (Money you hold back until the final payment) - a retention payment will only be collected six months after the completion of the job. At that time, we'll check back with you and make good any issues may have before asking for the release of the retention payment