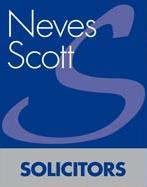 Neves Scott
Instone Road Instone House
Dartford, Kent
DA1 2AG
Since 2004
Contact
01322 277732
- or -
Email
Neves Scott has been established since 2004 when Mark Neves started the firm in Dartford at Trinity House. At that time the firm served the local and surrounding community in the Kent area focusing on family matters, civil litigation, housing and debt. The firm has enjoyed steady growth and also has added departments in conveyancing, employment, wills and probate, tax and trusts. Due to our expansion we now have a second office in the centre of Dartford at Instone House.

Our philosophy
Our team of lawyers are dedicated to providing clear and practical advice to our clients. We understand that legal proceedings can be daunting for many people, that is why we take time to explain all your available options and guide you to choose the course of action that suits your particular circumstances or requirements.

Our commitment
Our chief aim is clarity. At all stages we reassure you and keep you well informed of the progress of your case, making your path through the legal process as smooth and swift as possible.
Staff
Our team of highly-motivated, dedicated and trained professionals are committed to providing the best possible personal service without delay and at a reasonable cost. Our partners/solicitors are all experts in their own fields and have many, many years experience.
Memberships
We have special Legal Aid franchises for some work-types e.g. family, employment, housing, debt, civil litigation; contact us to see if you are eligible for Legal Help.

We are regulated by the Solicitors Regulation Authority.
Area of Business
We act for private individuals as well as businesses in the following areas:
Residential Conveyancing
Wills, Trusts, Tax and Probate
Property Law
Employment Law
Housing and Tenancy Law
Landlord & Tenant Law
Debt Collection and Debt Management
Civil Litigation
Family Law
Fees
Funding can be provided in a number of ways including public funding, privately paying and contingency fees (no win, no fee). If you are on a limited income Legal Help and/or Legal Aid may be available to help with funding depending on eligibility. Call us to see if you are eligible for Legal Help. We can also agree a fee payment plan to help you spread the cost of your legal fees.