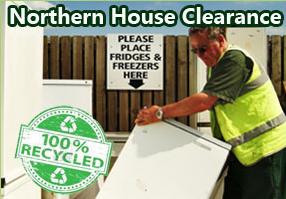 Northern House Clearance
Ouston Street 17
Newcastle Upon Tyne, Northumberland
NE15 6AS
Since 1992
We specialise in House Clearance throughout Northern England & Scotland.

At Northern House Clearance we undertake complete house clearances, all provided by a fully insured & licensed company. Our friendly, courteous team delivers speedy, efficient work within 24 hours notice.

Fully insured to undertake House Clearance.
Fully licensed to undertake House Clearance.
Registered with the Environment Agency.
Fully trained, professional staff.
Environmentally friendly House Clearance.
Discreet House Clearance service.
Staff
Our staff are fully trained, insured and experienced in house clearances.
Memberships
We are members of the House Clearance Association as well as various other small business associations.
Area of Business
Scotland, Edinburgh, Glasgow, Aberdeen. All areas in Scotland and Northern England, includes Newcastle, Gateshead, Cumbria, Northumberland & Teesside.
Fees
Our house clearance fees vary based upon the size of the house to be cleared.