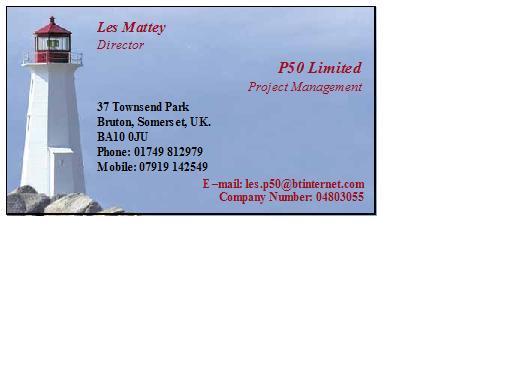 P50 Limited
Townsend Park 37
Bruton, Somerset
BA10 0JU
Since 2003
Contact
07919 142549
- or -
Email
We have been developing, refurbishing or improving property for 12 years, specialising in our own projects, returning property to the market after completing a programme of improvements.
Staff
Les Mattey cgli ftc Mech Eng. Following a mechanical engineering apprenticeship with a major aerospace company, he worked for over twenty five years as part of a project management team on Ministry of Defence contracts with several of the other biggest companies in the industry. Finally setting up P50, a limited company in Project Management, which quickly progressed into managing his own property refurbishment and development projects. As Director of this company he is always searching to buy property for renovation, modernisation or improvement to return to the market or retain as a rental.
Memberships
CGLI FTC Mech Eng
Area of Business
We specialise in residential property where the vendor requires a very quick sale where we can complete the purchase, transformation and return to the market in the shortest possible time. We are constantly searching for selling agents who can quickly respond to local fluctuations in property values and understand the benefit to all concerned from the fast turnover of property rather than the delay experienced when prices are held too high.
Fees
Between our own projects there are opportunities where our project management skills and expert team of contractors can provide refurbishment services to home owners. On these occasions we will provide a high quality result to compare with the most inexpensive quotes.