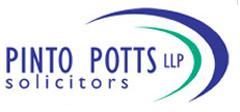 Pinto Potts Llp Solicitors
Reading Road South Alexandra House. 34
Fleet, Hampshire
GU52 7QL
Since 1975
Pinto Potts LLP Solicitors was formed in 2000 following a merger of two long established law firms, David Pinto & Co and Lewis & Potts. We currently occupy newly refurbished modern offices in Aldershot and Fleet, Hampshire, from here we are fully equipped to deal with clients throughout the country in a professional and efficient manner.
Services
Lawyer - Solicitor
Lawyer - Solicitor
Staff
We have over 60 professionally trained staff who are ready and able to handle a range of legal matters.
Memberships
Law Society Members
Area of Business
Conveyancing
Family Law
Personal Injury
Fees
Our fees are competitive, in many instances we can work on a No Win, No Fee basis.

In this instance we will not charge you a penny to handle your claim, win or lose.

You pay NOTHING. We can do this because we deal with your claim directly ourselves, we are your Solicitors, not a middleman or a Claims Management company who will sell your case to the highest bidder.

If you win your claim and we recover compensation you will receive it in full, 100% without any deductions. Our charges are paid by the other parties insurance company who also pay your compensation. They have to do this by law and therefore we make no deduction on your compensation. If, for whatever reason, you do not recover compensation, you pay nothing.