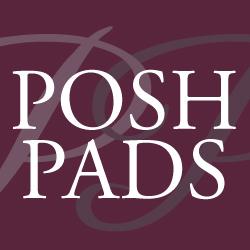 Posh Pads
Bedford Place 51
Southampton, Hampshire
SO15 2DT
Since 1992
Posh Pads have been offering student house shares, accommodation and lettings since 1992. Unhappy with the quality of student housing two ex University of Southampton Students created Posh Pads with the intention of creating high quality student lets of which tenant can call home.

Having grown the business over 20 years Posh Pads now offers property management, lettings and landlord investor advice, providing lettings in both Southampton & Portsmouth.
Services
Letting Agent - Residential
Letting Agent - Residential
Staff
Posh Pads employs 6 dedicated office staff, offering support to tenants, landlords and investors alike. In addition to this 2 full time decorators, 3 gardeners and a full time builder are also employed.
Memberships
NLA, ARLA, SASSH
Area of Business
Posh Pads currently offer 750+ tenants student accommodation in 150+ student houses throughout Portsmouth & Southampton. Predominantly properties become available in November for the following student letting year.
Fees
Competitive rates are charged for letting, let and rent collection and property management, these rates are usually discounted from Landlords payments.