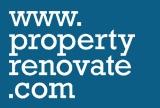 Propertyrenovate.com
Windsor Avenue Dalton House. 60
London, Surrey
SW19 2RR
Since 2004
Propertyrenovate.com was launched in 2004 with the aim of providing buyers with easy access to the many rundown properties for sale throughout London. At the same time our website provides a platform for Estate Agents to advertise their renovation properties to suitable buyers.
Services
Search & Buying Advisor - Investment
Search & Buying Advisor - Investment
Staff
The team behind propertyrenovate.com has over 15 years experience in the property development business and appreciates the problems faced when searching for renovation properties. Working closely with Estate Agents, whilst scouring the market enables us to produce a fully searchable and interactive database that saves our members hours of time and frustration in their search for the ideal investment opportunity.
Area of Business
We offer a subscription service for full access to our online database of renovation properties for sale in London. Over 100 properties are added to the database each week. Properties range from flats under 100k to million pound projects. All properties are in need of work ranging from basic redecoration to complete renovation.
Fees
Subscription costs £20 per month for as long as you require the service.