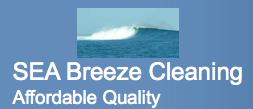 SEA Breeze Cleaning
Chapel Road 11
Kempsey, Worcester, Worcestershire
WR5 3JT
Since 2007
With many years experience in the domestic services market, SEA Breeze Cleaning Services is a committed local business, offering both domestic and commercial cleaning to customers throughout Worcestershire.

With the keenest prices around, SEA Breeze Cleaning Services have happy customers with time to enjoy life.

SEA Breeze offers comprehensive domestic and commercial cleaning services to private clients and businesses, which is cost effective and suits any budget.

SEA Breeze Cleaning Services has an expanding customer base, located in and around Worcestershire, which includes many private clients and commercial venues. SEA Breeze is able to offer reliable cleaning, including daily, weekly, monthly or one off visits which are tailored to the customers requirements.

SEA Breeze's services are suitable for the home or workplace and can be used as regularly as the customer decides is necessary.
Services
Domestic Cleaning Services - Home Cleaner
Staff
With friendly, experienced local staff available throughout Worcestershire, SEA Breeze has a reputation for honesty and quality, enabling clients to spend their precious time doing what they want to do.

SEA Breeze Cleaning is owned by Paul and Sarah Adams.
Sarah has worked within the Commercial and Domestic cleaning business for over 25 years, having previously managed many teams for a well known hotel chain.
SEA Breeze Cleaning is both experienced and professional within its areas of operation.
Memberships
Member of the Better Payment Practice.
Area of Business
SEA Breeze offers reliable cleaning, including daily, weekly, monthly or one off visits tailored to our customers requirements.

We operate a key-holding service so if you can't be there our home cleaners can still complete your clean for you.

A range of cleaning options are available to suit your requirements. This could be a one-off clean, deep clean or a regular cleaning service with a frequency that you choose.

We pay great attention to detail. You let us know if there are any particular areas or items in your home that need special attention (or any areas you don't want cleaned) and our cleaning staff will do their best to honor your requests.

Every home we clean is given the special attention and care that has made SEA Breeze Cleaning Service the most popular in its area.

All SEA Breeze Cleaning Services are Tailor Made.
Fees
Prices are dependent upon the level of work required and the duration of the visit.