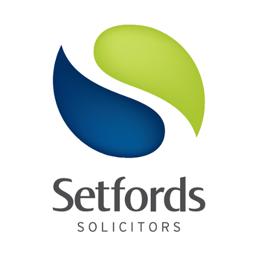 Setfords Solicitors
Jenner Road 1
Guildford, Surrey
GU1 3PH
Since 2006
Setfords Solicitors is a dynamic, modern law firm providing highly professional, no-nonsense legal advice to both businesses and individuals. Working across our six departments, namely, Residential Property, Commercial Property, Business Law, Private Client, Dispute Resolution and Employment Law, our teams of technically excellent lawyers provide the very best advice on a wide range of legal matters. At Setfords, however, we have adopted a unique business structure which sets us apart from almost every other law firm in the UK.

Whilst the firm's administration is dealt with by our head office in Guildford, Surrey, many of our lawyers work from their own satellite offices or from our clients' premises around the country. By utilising hi-end technology our lawyers are able to choose their own working environments anywhere in the UK, whilst remaining seamlessly integrated into the Setfords team and in constant communication with our clients. In addition to the benefits of a flexible working environment, our lawyers are not given billing targets to meet, and, thanks to our highly efficient administration department and streamlined procedures, do not have any of the usual day to day administrative duties which plague modern lawyers.

Our innovative and practical business structure means that in addition to having happier lawyers, who are able to spend more time helping, advising and communicating with clients, we are also able to provide the same high-quality legal advice that is expected from any of the top law firms in the country, but without the enormous overheads that come with employing and housing large teams of solicitors in expensive offices. These savings are then passed on to our clients.

We believe this makes us a market leader in the provision of modern, affordable legal services in the uk.
Staff
Guildford office:

Guy Setford- Solicitor - Founder
Chris Setford - Solicitor - Partner
Alexander Weller - Solicitor - Partner
Mike Brawley - Solicitor - Residential Property
Mark Goldsworthy - Conveyancing Executive
Red Flanagan-Brown - Conveyancing Executive
Memberships
Setfords are regulated by the Solicitors Regulation Authority.

Setfords Solicitors are Members of:

The Law Society Property Section
The Law Society Probate Section
Solicitors for the Elderly
Area of Business
Residential Sales and Purchases (Conveyancing)
Remortgages
Lease Extensions
Collective Enfranchisement
Right to Manage
Wills
Probate
Trusts
Employment
Litigation
Business Law
Fees
Conveyancing is charged on a quotation basis depending on the likely complexity of your transaction, please call us for a tailored quote or visit our website which contains an online fee estimator.