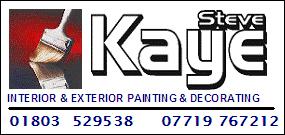 Steve Kaye Decorating Services
Carlton Drive 30
Preston, Paignton, Devon
TQ3 1DZ
Since 2001
We carry out Interior and Exterior Decorating in the Torbay, Kingswear, Dartmouth and Totnes area. Our services include Painting, Paperhanging, Masonry work and Glosswork. Our work is carried out to a high standard using only quality trade materials. Our business is based upon proving a fast and reasonably-priced service, exact quotations and pricing and offering courtesy and attention to customer needs and wants. We are able to supply extensive references and have an online portfolio of previous work via our website at www.steve-kaye.co.uk
Staff
Most of the work is carried put by Steve Kaye, Sole Proprietor. Steve is 58 years old, fit and competent. Other personnel used by me are also competent, reliable and honest.
Area of Business
Painting - Interior and Exterior, Paperhanging, some woodwork, some small plumbing works. We cover the Torbay area and Totnes and Dartmouth.
Fees
Our fees are as follows: Every job is individually priced based upon the cost of materials and the cost of labour. We do not offer estimates, only exact quotations, feeling that estimates are only provided by those who are not competent enough to carry out effective pricing.