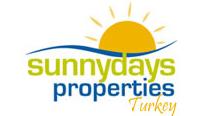 Sunnydays Properties
Blackfriars Street Conavon Court. 12
Salford, Lancashire
M3 5BQ
Since 2007
SunnyDays Properties is an estate agent who specialise in Turkish properties. They have offices in Manchester, Izmir, Cesme Alacati, Bodrum and Kalkan. SunnyDays Properties has a very large portfolio of properties with prices ranging from £17,000 to £50,000,000.
Services
Estate Agent - Foreign Property
Estate Agent - Foreign Property
Staff
All of our staff are Turkish. They are experts in all the destinations in Turkey, and would be able to advice you with the best area and property to choose for your needs.
Area of Business
Portfolio of properties in Bodrum, Izmir, Cesme, Karaburun, Urla, Kusadasi, Akbuk, Altinkum, Kalkan, Fethiye, Gocek, Dalaman, Antalya, Alanya, Istanbul, and many more.
Fees
For a large percentage of properties, we offer 0% commission.