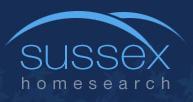 Sussex Homesearch Ltd
Old Broyle Road Fairyhill
West Broyle, Chichester, West Sussex
PO19 3PJ
Since 2000
The service offered by Sussex Homesearch supports a potential buyer throughout the entire purchasing process from the detailed brief through to accompanied viewings, negotiation and even post purchase advice on relevant refurbishment suppliers. In addition to finding homes to buy as a home or investment opportunity, Sussex Homesearch also helps clients find suitable rental properties.
Services
Search & Buying Advisor - Residential
Staff
Christian Heyman - Founding Director.
Area of Business
We find properties in West Sussex for clients starting from £800,000 upwards.
Fees
% commission based on purchase price of the property.