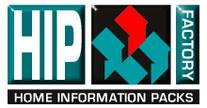 The HIP Factory
Kirkhill Bank 16
Penistone, Sheffield, Yorkshire
S36 9UX
Since 2007
Contact
01226 767396
- or -
Email
We provide Home Information Packs for the sale of your home.
We supply to private individual home owners, alongside estate agents and energy assessors for whom we can tailor the HIP packs.
The HIP packs are provided to fulfill the legal requirements established in 2007 that stipulates that each property sale requires a HIP, to provide information on searches, title deeds and energy assessment.
Staff
Our staff operate to provide the best possible service to our customers, we create peace of mind for our customers, as we focus on good professional practice, and customer service.
Area of Business
Home Information Packs, HIP packs, DEA.
Fees
£220 + vat for freehold properties.