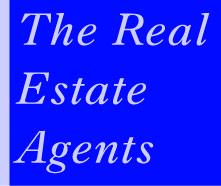 The Real Estate Agents
Duke Street 1
Glasgow, Lanarkshire
G4 0UL
Since 2007
Your home is the most important and expensive asset you will ever own so when choosing an estate agent you must choose very carefully. The marketing of your property is of the utmost importance and your property must be presented to the market properly. That is why at The Real Estate Agents you are assigned one Property Manager to deal with your home sale from start to finish. Your Property Manager is your one point of contact and they have experience and they have complete control of the whole sales process.

Our aim is to sell your property in the fastest possible time for the best possible price. We aim to provide a one stop shop for the sale of your property and after we discuss your requirements we will quote you our costs upfront so that you know exactly where you stand and you know exactly how much you will be paying out. We can get you a quote for conveyancing from Mr Carmichael at James M Carmichaels, Solicitors so that you are fully informed of all the costs that you are required to outlay.

We have a mixed database of clients looking to buy all sorts of property and we also have access to the GSPC Matching service as well as the buyers that go through a major property portal and we hold our own in-house database of buyers.

Please call us for your free no obligation home valuation.
Services
Search & Buying Advisor - Residential
Search & Buying Advisor - Residential
Estate Agent - Residential
Estate Agent - Residential
Estate Agent - Foreign Property
Estate Agent - Foreign Property
Estate Agent - Land
Estate Agent - Land
Lawyer - Solicitor
Lawyer - Solicitor
Lawyer - Licenced Conveyancer
Lawyer - Licenced Conveyancer
Staff
Our staff are highly trained and experienced in all aspects of Estate Agency.
Memberships
National Association of Estate Agents.
Area of Business
Estate Agency services is the first and foremost part of our business but we do offer conveyancing services via James M Carmichael Solicitors.

We can also put you in touch with an Independent Financial Consultant who can assist you with anything to do with money and investments.

We can assist with letting.
Fees
Our Estate Agency fees are £349 for the marketing fee and this includes:

- 2 "For Sale" boards
- 40 Schedules
- In the GSPC Free newspaper for 6 months as a Prestige Add with a full colour picture for 8 weeks. If you require a further 4 weeks this will be charged at £20 per 4 weeks.
- On the GSPC website for 6 months
- On a major property portal until sold and
Window cards for all our offices.

The final selling fee is 1% for people who do their own viewings and 1.5% if you require a qualified estate agent to do your viewings. If you are getting your estate agency through us you will qualify for a discount on the normal conveyancing fees of £550 plus vat plus outlays. This fee will bee reduced to £475 plus vat plus outlays. Remember you must pay this both for both selling and buying.

Our fees are very clear and concise. There are no hidden extras.

We are not vat registered so we are usually cheaper than other estate agents.