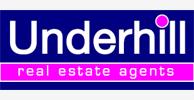 Underhill Real Estate Agents
Iddesleigh Terrace 19
Dawlish, Devon
EX7 9HY
Since 2005
Underhill Real Estate Agents are a leading independent, property consultancy business. We offer services, expertise and advise on property SALES & LETTINGS. In addition to two more offices in Exeter, we provide sales and letting services across Devon and the South West with towns including: Dawlish, Teignmouth, Bishopteignton, Newton Abbot and north toward Exeter Dawlish Warren, Starcross, Kenton and Exminster. For professional, friendly, impartial and qualified advice on all property matters.
Services
Estate Agent - Residential
Estate Agent - Residential
Staff
Underhill Real Estate Agents deliver results as well as excellent customer service for our clients. So if you are considering selling, buying or renting come in and talk to our knowledgeable staff today.

Melinda Fonda is the Director of Underhill Real Estate Agents. The Dawlish office is managed by Carl Fletcher, ably assisted by Barbara Jewell, who together have over 55 years experience in Estate Agency. Their unrivalled local knowledge is invaluable, coupled with their extensive knowledge of both the sales and rentals markets, we are ideally placed to advise you on current trends, presenting your property to market and securing that sale or ideal tenant for you.
Memberships
Underhill Real Estate Agents are proud members of The Property Ombudsman Scheme and follow the TPO Code of Practice for Residential Sales and Letting Agents.
Area of Business
Whether you are looking to sell or let your house, we will be very happy to arrange a free, no-obligation market appraisal to give you an idea of the current market value of your home.

Register for A Free, No Obligation Market Appraisal at www.underhillproperty.com or call us to arrange your free visit today.
Fees
Set your own fee

Some agents will tell you they are cheap - But doing it on the cheap could be an expensive mistake.

Some take pride in being expensive - How can you be sure you're going to get what you pay for?

We are so confident you'll be happy with our service, that we're willing to bet our company on it.

We won't fix a fee for you. We agree a minimum and maximum so you can rate our service.

When your house is sold, you decide if you're going to pay the minimum or maximum, or somewhere in between, based on the service you have received.

The choice is yours. We won't argue.

If you're going to trust us with your future, we're happy to trust you with ours.

To find out more visit our website www.underhillproperty.com or call our office.