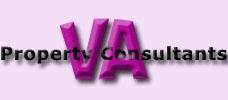 V A Property Consultants
St John Street 145-157
London, Middlesex
EC1V 4PY
Since 2005
V A Property Consultants offer an independent residential property search and investment buying service.

We work closely with you to create your personal lifestyle brief to match 'best fit' properties available throughout the UK.

From our initial meeting with you to our expert advice and price negotiation skills to sourcing local amenities - Your every need is taken care of by our search consultants..... So relax and allow us to get you there!
Services
Search & Buying Advisor - Residential
Staff
All our search consultants are friendly yet professional and real life experts in property sourcing, price negotiation and project management to help get you where you want. We have built our business and great reputation through recommendation and referrals.

The Senior Team :
Venessa Afonja - Founder and Property Consultant
Ayo Afonja - International Property Consultant
Pam Young - Property Consultant
Area of Business
Residential Relocation

This service is designed to understand and work with your lifestyle and living requirements. Our role is to apply your lifestyle requirements into the search and acquisition of your next home, thus saving you from the frustration of dealing with numerous agents, juggling research around your life and time wasted on unsuitable viewing trips.

This service includes:
- Working with you to create a personal search brief;
- Proactively searching until we have found your desired home;
- Managing the entire buying process through to completion;
- Taking charge of removals, interior design and furnishing.


Investments and Developments

At VA Property Consultants our primary objective is to find and secure investment properties with capital growth potential and good rental yield for our clients. Working to meet your requirements, we search the entire UK market and present our independent findings and recommendations.

This service includes:
- Buy To Let opportunities;
- On and Off plan developments;
- Management from reservation through to completion/letting;
- A tailored first-time investors service.
Fees
Upon successful acquisition of your property, our fees are based on a percentage fee of the purchase price.