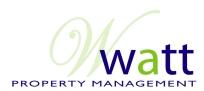 Watt Property Management
Duke Street 106
Edinburgh, Midlothian
EH6 8HL
Since 1996
Watt Property Management. Established letting specialists, renting property in Edinburgh and East Lothian. Comprehensive services, friendly staff and excellent reputation. Whether it's one of our packages or a bespoke service we are here to help. Free rent valuation and guidance on property presentation. Comprehensive services include rent guarantee, advertising only and occupancy agreements for resident Landlords.

Let's let with the experts.
Staff
The team at Watt Property is lead by Angela Watt who is a qualified solicitor and has extensive expertise in property letting and eviction procedures.
Landlords and tenants alike will be assisted by a named person who will progress the let on their behalf. Staff are given regular updates on new legislation and are well informed on the current climate for letting properties and can therefore provide a exceptional service.
Memberships
Accreditation Scotland, Scottish Association of Landlords, Law Society of Scotland, Federation of Small Businesses.
Area of Business
Letting property within Edinburgh and East Lothian;
Guidance on preparing your property for letting and the appropriate lease;
Property refurbishment and presentation for let;
Marketing;
Guidance on current legislation and arranging compliance;
Implementation of all paperwork required to set up your lease;
Monthly factoring service;
Occupancy agreements for those who wish to let a room within their home.
Fees
Available upon request for Landlords together with any special offers.
[dfp ad="OurProperty_ATF_Content_Directory_728x90" type="leaderboard" map="300x250,468x60,728x90"]